Precision CNC Turning of an Alloy Steel Stud Gripper for the Oil Industry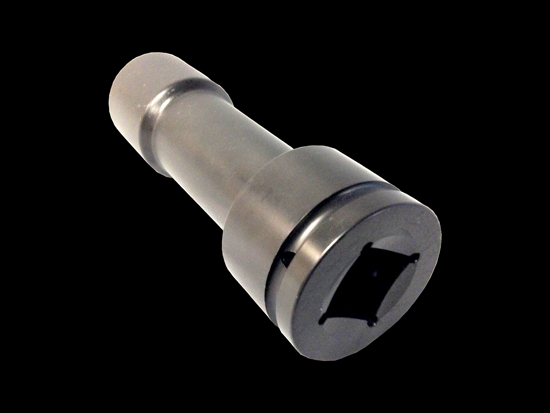 A customer in the oil refinery industry selected Allied Precision to custom fabricate a stud gripper that is used for the removal of studs, typically damaged or corroded requiring upgrades. Type 4340 and 4820 hot rolled alloy steel was turned and milled to the customer specified dimensions, employing our newest Precision CNC lathe and mill. To meet the required specifications on the part, boring and grooving processes were also applied. Tight tolerances of +0.003″/-0.000″ and an angular tolerance of ± 1° were held throughout machining. The part was deburred to remove any unwanted particles and prepared for heat treatment/tempering for optimal strength and wear resistance. The finished surface met the required hardness ratings of Rc 49-51 and Rc 60. Thorough visual and dimensional inspections were applied during production to certify accuracy and quality.
Finished dimensions for this part were 14.0″ long, an outside diameter of 5.750″, and inside diameter measuring 2.375″. 50 units were produced, assembled, and shipped to the client in the Midwest after a turnaround time of 4 – 6 weeks. All manufacturing took place in our facility, meeting exacting industry quality standards. We welcome the opportunity to provide custom machining for oil and gas industry applications, as well as other industries needing precision machining work. For more information about this stud gripper project or our other value added CNC and conventional machining services, please see the table below or contact us directly.
Precision CNC Turning of an Alloy Steel Stud Gripper Project Highlights
Product Description
Stud Removal at Oil & Gas Refineries
CNC Turning Capabilities Applied/Processes
Primary:
• CNC Turning
• Boring
• Grooving
• CNC Milling
Secondary:
• Deburring
• Heat Treating
• Assembly
Equipment Used to Manufacture Part
CNC Lathe & CNC Mill
Overall Part Dimensions
OD: Ø 5.750″
ID: Ø 2.375″
Length: 14.0″
Tightest Tolerances
0.003″ / – 0.000″
Angular: ± 1°
Material Used
Hot Rolled Alloy Steel
• Type 4340
Material Finish
Heat Treated
Tempered
Rc 49-51
Rc 60
In process testing/inspection performed
Dimensional Inspection, Visual Inspection
Industry for Use
Oil
Volume
50
Delivery/Turnaround Time
4-6 Weeks
Delivery Location
Midwest
Standards Met
Per Customer Specifications, 2D CAD Drawing
Product Name
Stud Gripper