CNC Turning of a Steel Connector for the Hose and Coupling Industry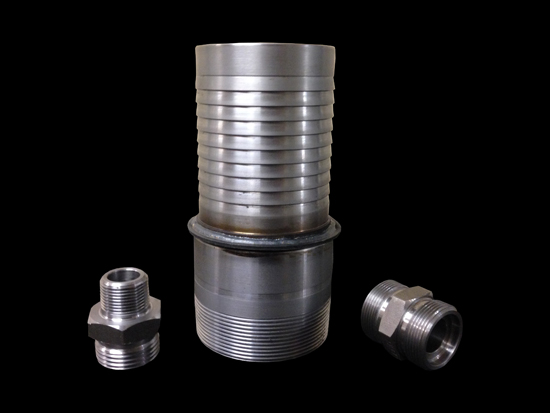 Allied Precision was contracted to fabricate a custom Connector spud for a hose and coupling manufacturer. Employing our advanced CNC lathe, we performed turning, boring, and threading processes on C1215 steel component. This process allowed us to maintain dimensional tolerances of ±.005″, and angular tolerances of ±1°. Finished dimensions for this part were 1-3/8″ high, a 1-7/8″ hex, extruded threads of 1.814″/1.812″, and cut threads of 1.877″/1.865″.
The part underwent tumbling deburring to cleanse any remaining particles from machining, preparing it for the corrosion resisting zinc plating process. The cleaned parts were immersed into the zinc solution and the proper current applied. The plated parts were part marked for identification and branding and shipped to this east coast customer. We produced 10,000 units, packaged and shipped with a turnaround time of 3-4 weeks.
The 3/4″ Connector spud was fabricated according to customer specifications, upholding rigorous industry standards for quality and integrity. This spud features a polymer seat, which aids to form a chemical resistant, leak-proof seal. For more information about this project, or how any of our other value added machining capabilities can meet your company's needs, please see the table below or contact us directly.
CNC Turning of a Steel Connector Project Highlights
Product Description
Fluid Transfer
CNC Turning Capabilities Applied/Processes
Primary:
• CNC Turning
• Boring
• Threading
Secondary:
• Deburring
• Zinc Plating
• Part Marking
Equipment Used to Manufacture Part
CNC Lathe
Overall Part Dimensions
Hex: 1-7/8″
Height: 1-3/8″
Roll Thread: 1.814/1.812
Cut Thread: 1.877/1.865
Tightest Tolerances
± 0.005″
Angular: ± 1°
Material Used
C1215 Steel
Standard: ASTM# A108
Material Finish
Zinc Plated
Features/Benefits
Polymer Seat
In process testing/inspection performed
Dimensional Inspection, Visual Inspections
Industry for Use
Hose and Coupling
Volume
10,000
Delivery/Turnaround Time
3-4 Weeks
Delivery Location
East Coast
Standards Met
Per Customer Specifications, 2D CAD Drawing
ASTM# A108
Product Name
3/4″ Connector Spud