Precision CNC Machined Stainless Steel Threaded Eccentric Counter Weight for the Pharmaceutical Industry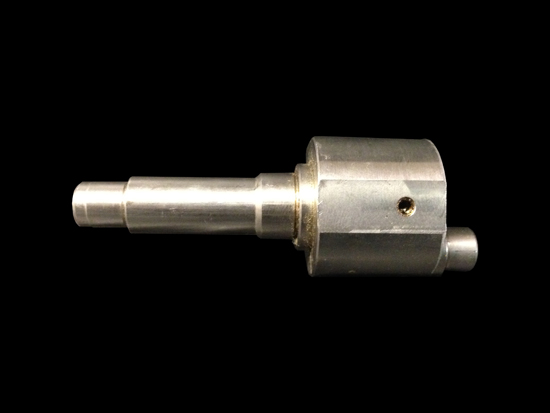 Allied Precision was recently contracted to manufacture a threaded eccentric counter weight that would be used in the pharmaceutical industry application. This part was fabricated on our precision CNC machined using 303 stainless steel. We employed turning and milling processes to precisely shape the material, along with drilling and tapping the holes to cut the internal threads. After deburring to smooth and clean the parts from any leftover materials, we assembled the units per customer specifications and prepared them for shipping to a company in NY. 1000 parts were produced, taking only 6 minutes each to machine.
The finished dimensions of the counter weight were 0.647″ high, with an outside diameter of 2.108″- 2.400″. The part was left with a raw machined finish, and the tightest tolerances of 1.0234″/1.0229″, and angular tolerance of ± 1° were held for the duration. As with all of our products, this part was held to the highest quality standards, fully dimensionally and visually inspected throughout production. For more information about this threaded eccentric counter weight project, or for other ways Allied Precision's custom machining capabilities can benefit your business, please see the table below or contact us directly.
Stainless Steel Threaded Eccentric Counter Weight Project Highlights
Product Description
Pharmaceutical Equipment
CNC Turning Capabilities Applied/Processes
Primary:
• CNC Turning
• CNC Milling
• Drilling
• Tapping
Secondary:
• Deburring
• Assembly
Equipment Used to Manufacture Part
CNC Mill
Overall Part Dimensions
OD: Ø 2.108″ to 2.400″
Height: 0.647″
Tightest Tolerances
1.0234″ / 1.0229″
Angular: ± 1°
Material Used
303 Stainless Steel
Material Finish
Raw, Machined
In process testing/inspection performed
Dimensional Inspection, Visual Inspection
Industry for Use
Pharmaceutical
Volume
1000
Delivery/Turnaround Time
6 minutes per part
Delivery Location
New York
Standards Met
Per Customer Specifications, 2D CAD Drawing
Product Name
Threaded Eccentric Counter Weight