CNC Machined Stainless Steel Fuel Filter Housing for a Power Generation Application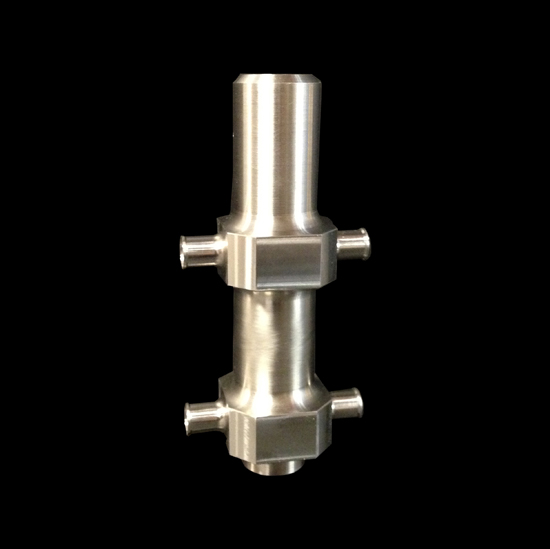 A customer in the power generation industry contracted Allied Precision for the custom CNC machining of the fuel filter housing as shown here. 316 steel was turned and milled on our state-of-the-art CNC lathe with live tooling and our CNC vertical mill. Drilling and chamfer cutting were also utilized for the openings and angled grooves of the part. To remove any residual material from machining, the housing was deburred and ball honed to properly finish the bored surfaces. The part maintained a mix of a raw and machined finishes. Exacting tolerance of ± 0.05mm and an angular tolerance of ± 30 min were held throughout. Two hundred pieces were delivered to the client in Pennsylvania with a turnaround time of 4 weeks.
Finished part dimensions were 125.2mm long x 28mm wide x 36mm high. As a part of our rigorous quality control measures, dimensional and visual inspections were implemented throughout production to verify accuracy and functionality. Allied Precision is committed to exceeding customer expectations, being a consistent and reliable source for high quality machined parts. For more information about this steel fuel filter housing project or our other precision manufacturing capabilities for the power generation and other industries, please see the table below or contact us directly.
CNC Machined Stainless Steel Fuel Filter Housing Project Highlights
Product Description
Stainless Steel Fuel Filter Housing for Power Generation
CNC Turning Capabilities Applied/Processes
Primary:
• CNC Milling
• CNC Turning
• Chamfer Cutting
• Drilling
Secondary:
• Deburring
• Ball Honing
Equipment Used to Manufacture Part
CNC Live Tooling Lathe and CNC Vertical Mill
Overall Part Dimensions
Length: 125.2mm ± 0.13
Width: 28mm ± 0.50
Height: 36mm ± 0.50
Tightest Tolerances
± 0.05mm
Angular: ± 30 MIN
Material Used
316 Stainless Steel
Material Finish
Raw, Machined
In process testing/inspection performed
Dimensional Inspection, Visual Inspection
Industry for Use
Power Generation
Volume
200
Delivery/Turnaround Time
4 Weeks
Delivery Location
Pennsylvania
Standards Met
Customer Specifications, 2D CAD Drawing
Product Name
Housing Fuel Filter