Precision CNC Turning of a Stainless Steel Elbow Hose End Fitting for the Defense Industry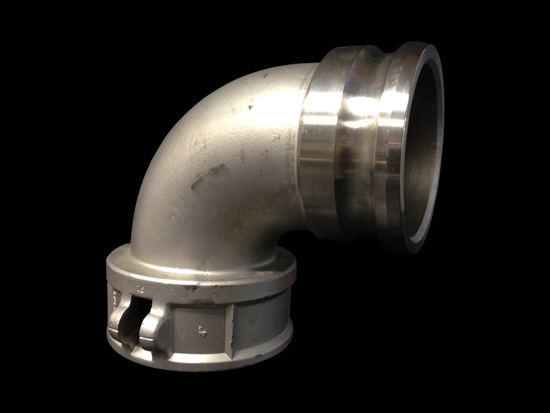 A government defense contractor needed a company with the experience and reputation for high quality work to provide them with a custom machined 90° elbow fitting, utilized for ship refueling and controlled fluid transfer. Allied Precision was contracted to take on the job, utilizing our advanced CNC lathe to turn and bore 316 stainless steel to the specified size and shape, maintaining tight tolerances of +0.002″ and ± 30 MIN (angular) throughout. This fitting has a finished outer diameter of 6.62″ and inner diameter of 5.27″, with a raw machined finish. This part was cleaned and smoothed with our deburring process, 200 units were packaged for shipment to the customer on the East Coast. Turnaround time for this project was 3-4 weeks.
This elbow fitting was constructed catering to customer requirements, keeping to the standards set by MIL-STD-278, with thorough testing and inspections performed. This part passed pressure testing of 600 psi for 3 minutes. This defense application is just one example of the precision CNC machined work Allied has been providing customers for over 20 years. For more details about this 90° elbow hose end fitting project, or any of our other value added manufacturing capabilities and services, please see the table below or contact us directly.
Stainless Steel Elbow Hose End Fitting Project Highlights
Product Description
Ship Refueling
CNC Turning Capabilities Applied/Processes
Primary:
• CNC Turning
• Boring
Secondary:
• Deburring
Equipment Used to Manufacture Part
CNC Lathe
Overall Part Dimensions
OD: Ø 6.62″
ID: Ø 5.27″
Tightest Tolerances
0.002″
Angular: ± 30 MIN
Material Used
316 Stainless Steel
Material Finish
Machined, Raw
In process testing/inspection performed
Dimensional Inspected
Pressure Tested
• 600 psi for 3 minutes
Industry for Use
Fluid Transfer and Control Products
Volume
200
Delivery/Turnaround Time
3-4 Weeks
Delivery Location
East Coast
Standards Met
Per Customer Specifications, 2D CAD Drawing
Product Name
90° Elbow Hose End Fitting