Precision CNC Machining of an Aluminum Vial for the Pharmaceutical Industry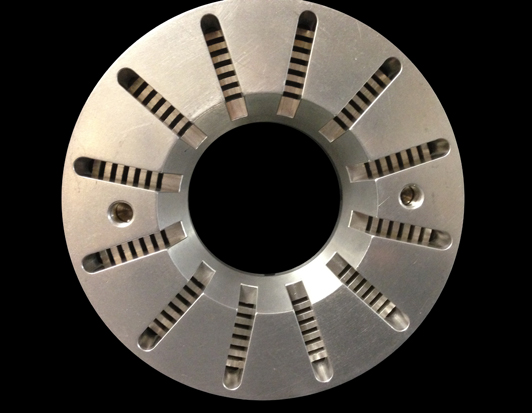 Allied Precision was contracted by a customer in the pharmaceutical industry for the custom machining of a "monoblock" vial, used for medical pill dispensing. Precision CNC turning and milling processes were carried out on 6061 T6 aluminum, using our advanced CNC mill. Boring operations were also applied for the inside diameter. Finished dimensions for the part were 0.75″ high, an outer diameter of 7.100″, and an inner diameter of 1.520″, with a weight of 1.74lbs. Tightest tolerances of +0.005″ and: ± 1° (angular) were held throughout production.
The unit was cleaned and prepared for further treatment with our deburring process, and ultimately treated for abrasion resistance and corrosion protection with a type II class II clear anodizing treatment, carried out per MIL-A-8625. 500 units were packaged and shipped to the customer on the East Coast. Typical lead time for a project of this magnitude is 4 – 6 weeks. At Allied Precision we specialize in high quality CNC machining, manufacturing to the exacting standards of our industrial clients. For more about this aluminum vial project or the other value added fabrication services we offer, please see the table below or contact us directly.
Precision CNC Machining of an Aluminum Vial Project Highlights
Product Description
Medical Pill Dispensing
CNC Turning Capabilities Applied/Processes
Primary:
• CNC Turning
• CNC Milling
• Boring
Secondary:
• Deburring
• Clear Anodizing
Equipment Used to Manufacture Part
CNC Mill
Overall Part Dimensions
MonoblockOD:
• Ø 7.100″
• ID: Ø 1.520″
• Height: 0.75″
• Weight: 1.74lbs.
Tightest Tolerances
± 0.005″
Angular: ± 1°
Material Used
6061 T6 Aluminum
Material Finish
Anodized per MIL-A-8625 Type II Class II
Industry for Use
Pharmaceutical
Volume
500
Delivery/Turnaround Time
4-6 Weeks
Delivery Location
East Coast
Standards Met
Customer Specifications, 2D CAD Drawing
MIL-A-8625 Type II Class II
Product Name
Monoblock/Polyblock Vial